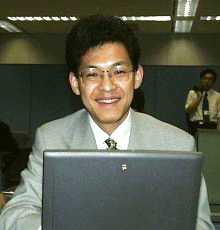 This is

picture of yukin taken in April 1998, when I was in an introduction course of my company. PowerBook 5300cs/100, which I used at that time, was with me. By the way, now I'm using MacBook Air (Late 2008).
If you want to see moving yukin, let's see

rolling yukin (QuickTime; about 300Kbytes). You can see yukin side and rear. And you can hear yukin's voice too (in Japanese). I recorded this movie with a PowerMac and a video camera in 1996.
About...
My name is 西川 幸成 (NISHIKAWA Yukinari). I was born in Sapporo, Hokkaido, Japan at November 2. 1971. In 1975, I moved to Ishikari, Hokkaido, Japan (next to Sapporo) and had lived there by March 1998.
I got into a university in 1992 and studied information engineering. Then I got into a graduate school in 1996 and studied human interface and CSCW (Computer Supported Cooperative Work). I graduated master's course of systems and information engineering on March 1998.
I got a job on April 1998 and have lived in Urayasu, Chiba, Japan (next to Tokyo). On the job, I experienced system development, testing and installation of communications system. After November 2000, I also experienced product planning, marketing and so on.
Since about August 2003, I have felt some disorders of my mind and body, such as sleep disorder (sleepiness during daylight and difficulty of sleeping at night), chronic tiredness, stomachache, and decreased motivation for working. I have received medical treatment of mood disorder (depression) since December 2003. And I had taken sick leave since March 2004.
Because my depression has improved considerably by long-term medical treatment and sick leave, I went back to work in February 2008. But sleep disorder and chronic tiredness have not been cured completely, so now I'm continuing to receive medical treatment.
Hobbies
Playing with Mac. I use Windows and UNIX at work, but I love Mac! I have used Mac for over 10 years. Now I'm using MacBook Air (Late 2008) , the 5th Mac of mine.
Of course I also love iPhone. I have unlocked (sim-free) iPhone with JRC (Nihon Tsushin) Platinum Service.
Making Web pages. I edit pages using HTML and CSS. And I also write CGI scripts in Perl.
Web surfing. Especially I often read news sites of Mac/Apple and the Internet.
Getting qualifications. Information Technology, English and so on.
Watching soccer games. Because I was born in Sapporo, I support Consadole Sapporo. Now I live far from Sapporo, so I sometimes watch away games in my neighborhood.
Qualifications
I also took TOEIC etc.
TOEIC

[New]

930 (READING 480, LISTENING 450) [June, 2011]

TOPEC

IT test Level I (126,90%) [October, 2003 the 1st]
Why "yukin" ?
In November 1994, I (NISHIKAWA Yukinari) was assigned to a laboratory, and was told to decide my new login name of UNIX machines.

At first I want the name "yuki", but someone in the laboratory already used "yuki". So I had to use another name (Certainly, there are many people whose name contains "yuki" in Japan). At last I decided my login name "yukin", picking up the initial five letters of "Yukinari".

And, the "n" of "yukin" also means the "n" of "Nishikawa". That is, the "n" plays two roles, "n" of "Yukinari" and "n" of "Nishikawa".

Now I use the name "yukin" as a screen name of @nifty, etc.

yukin(